Mobile-friendly Roll-out for CrestClean
When it comes to precise delivery and management of their web network CrestClean engages i360 as a trusted partner.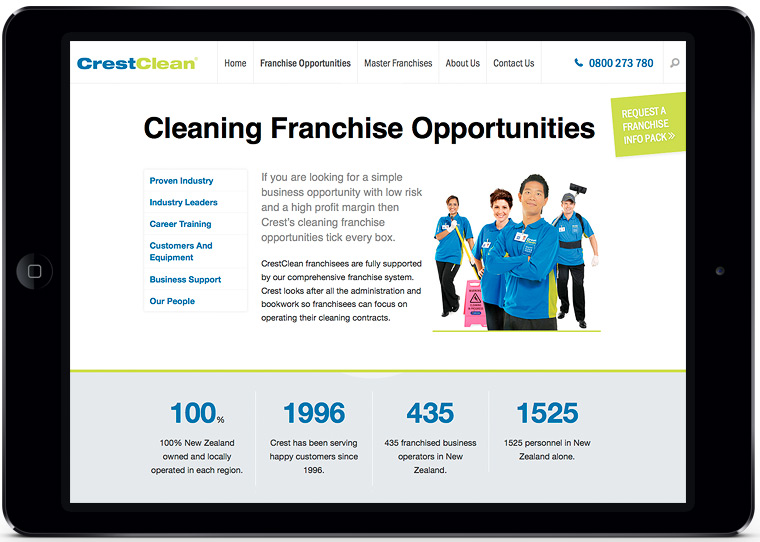 A Future-proofed Mobile Framework
Many months ago CrestClean gave the brief to plan the future of their web network with key requirements the wanted including:
1. A future-proofed WordPress framework
2. A smooth and seamless mobile-to-desktop experience
3. Search engine optimised page and content structures
4. CMS flexibility to enable the introduction of their core and sub-brand design guidelines
Fast delivery because 'time is rankings'
When the final details of the Google Penguin update were announced, we we're well in to the production of crest.co.nz and took the upgraded website live 1 month. With very little change-over ripple in Search Engine Page Ranking (SERPs), the client was very pleased and subsequently rankings have steadily improved.
Seamless data migration
A key challenge with this project was the migration of over 350 articles and respective media links (URLs valuable for SEO) from their legacy website system. We planned and executed multiple import processes to seamlessly migrate their content to the new mobile platform.
Device-dependent Conversion Strategy
It was important for this website to maintain a clear and prominent, device-dependent conversion prompt at all times. For desktop and tablet users a sticky enquiry tab has priority which leads through to an enquiry form page. At mobile sizes, a call button has higher priority reflecting a higher percentage of visitors via mobile preferring to make a telephone enquiry.
---
For further information contact Scott via email or on 021 639362